SELECT 2021 Information
We are exited to be back in the gym and concerned for the safety of your aspiring athlete. Please ensure they bring a mask and understand that they are subject to a forehead temperature scan.
Please help us hold your student athlete ultimately responsible for events on the calendar. http://www.journeymanbasketball.com/calendar/
SAFETY PRECAUTIONS
Journeyman Basketball is so excited and happy to have you all back in the gym.  In keeping with our commitment to the community we want to be sure all our athletes and volunteers are safe.  We need to stress that, although we are all very relieved to be back in the gym, if you are feeling unwell, you MUST NOT attend Journeyman events.
Have you air traveled within the past 10 days
Have you been in direct contact with someone who has tested positive in the last 10 days
Are you currently experiencing shortness of breath, fever, lost of taste or smell and/or have noticed a recent skin rash
We regret that spectators are currently not allowed in the gym. Live Streaming is being evaluated by our technical advisor. This service may be provided soon!
When the Foundation for Seacoast Health allows spectators, you will be informed immediately.
In addition to athletes those in the gym must be designated program staff by such as:
Officials
Bench and Fundamentals Coaches
Stat bench / Safety Staff
Program Lead / President/Vice President
Welcome Back!
Information about April 10th/11th Tournament

(Click on image to expand)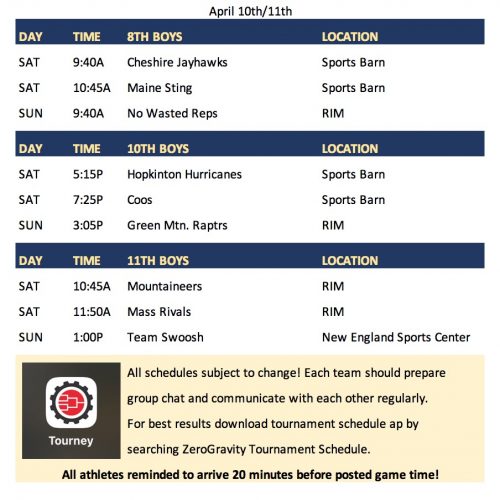 JP Sanborn: 603.234.5553
Ale Price: 603.583.1717
Jimmy Flynn: 603.969.1162