Hall of Fame Induction Process (Awarded as Necessary)(rev. 08112015)
(Staff Note: When presenting this award a detailed reason must be given in speech format serving as a verbal recap of the athlete's career with the program)
Journeyman Basketball recognizes athletes and their achievements by inducting them into our Hall of Fame. Their statistical achievements are great, but what they have provided for fellow Journeymen is greater. Persistence is key. Others can claim scoring wizardry and boast of excellence in the game, but these athletes proved their worth through the years. Their commitment to the program was well established and helped to shape the program into what it is today. Please take the time to read some of these bios and you will see what the program is all about.

The Journeyman Advisory Committee (JAC) takes great pride in their selections in the Hall of Fame. We deliberate often for weeks before making a final selection. The JAC must use the following criteria when pre-screening for the Hall of Fame.
Must have participated in a minimum of 8 Journeyman Basketball sessions

Must have played in a minimum of 80 games

Must have participated in a minimum of 1 session/team in their last year of eligibility.

Must have totaled 1,800 point system points over a Journeyman career

Can no longer be eligible to participate in Journeyman teamwork sessions or is currently in their last session of eligibility.

Must receive a majority rules decision from Journeyman Advisory Committee members and JPA President in regards to induction into the Hall of Fame.
NOTE: Those with limited knowledge regarding the full career of the prospective inductee are expected to respectfully recuse themselves from the voting process.

Simply meeting the above criteria does not guarantee induction. The JAC must take a very serious approach in this matter to protect the integrity of its existence. The criteria above are a bare bones minimum requirement and can only be waived in extreme circumstances approved by the board. It is the first step in an in depth review of what a player has contributed and achieved during his/her Journeyman career.

The board also looks for the following when considering Hall of Fame inductees.
Volunteer work done for the organization or his/her community and participation in charity events or fundraisers

Commitment to his/her team for the duration of their involvement in the program and favorable impact made in teammates as expressed by piers

A genuine respect for themselves, their teammates, the program and the game

Consistent understanding of the team's goals and objectives

A genuine desire to continue to improve while ensuring solid communication and punctuality

Favorable representation of the program
Furthermore the Board of Directors and Advisory Committee reserve the right to make all final decisions regarding induction with no further explanation.
Induction Categories:
* Coach
* Player (Journeyman or J-Hawk)
* Contributor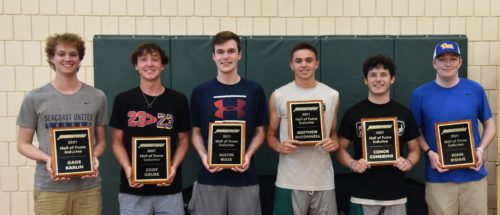 IMPORTANT NOTE: These goals and criteria can be achieved after an athlete's Journeyman career is completed by his/her continued participation in fundraising and alumni games. If you are not inducted into the Hall of Fame at the end of your last eligible session it does not signify that you will not be inducted. It simply means you have not yet met the criteria or it is not yet a unanimous JAC decision. All non-player inductions must be approved by the JPA. (Journeyman Players Association)
NOTE: Hall of Famers are listed alphabetically by first name and by month and year of induction.